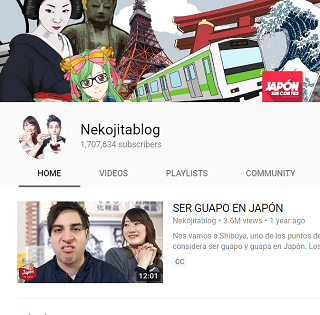 This is what a lot of people are looking for but they either don't know it or don't know how to describe it: Spanish-language videos that are interesting/entertaining, intended for native speakers (that is, these videos are not over-simplified for Spanish-students), but which are not extremely difficult, and so would serve as excellent intermediate Spanish practice for students who have surpassed the beginner's stage but are not yet advanced ("advanced" here means they can understand nearly everything in Spanish that they hear).  For those familiar with it, I'm talking about students in the high-A1 to B2 range per the CEFR scale.
One final resource I want to suggest isn't a YouTube channel but a site that uses a lot of videos from YouTube and other places and which I think may interest you if you're at the advanced-beginner-to-intermediate level that this blog post is targeted at: Yabla.  This is a fantastic site but of everything I'm recommending here it is the one thing that's not free, you do have to pay (~$10/month).  What they do is take or make videos by native speakers that are different levels and then insert them into their own purpose-made interface for you to use to learn Spanish from said videos.  You're supplied with subtitles in both English and Spanish that you can turn on and off (you can turn on/off either or both), when you click on any word in the Spanish subtitles you're provided with a definition via the dictionary on the right side of the window (video is in the center) plus that automatically adds the word to your flashcards for later review.  There are quizzes and games and all sorts of other things as well.  Check out my review of Yabla here that includes many screenshots of the interface so you can see what you're getting, descriptions of all the video genres they have available, how they organize the videos by dialect and difficulty, pricing information for teachers/organizations, as well as a lot of other information.
And that's all I've got for now.  I'm just putting this post up quickly because something's better than nothing and I've had a lot of people asking me for recommendations for intermediate Spanish practice.  I absolutely will add more Spanish-speaking YouTubers later.  Also, be sure to check out my list of Spanish YouTube Lessons (mostly for beginners), that is to say YouTube channels that teach Spanish.
Also!  Keep in mind that using popular media like this to learn Spanish, though an excellent technique (it's how I initially did it) can be done much more effectively, efficiently, and with far fewer problems and frustrations if you have a solid guide to help you do it (how to imitate the speakers so you're actually talking like them, how to quickly note down vocabulary and learn it so you don't forget it, which resources to use and where to find them, etc.), and it just so happens I've written a book that does precisely that…
If you thought the above was at all useful and you want to learn (or are learning) Spanish, please give me a chance and read what I have to say about my book below!  Stick around after (or skip past it) because I've got a list of related resources and further reading (on this site and others) for you that may be of interest.
I learned to speak conversational Spanish in six months using TV shows, movies, and even comics: I then wrote a book on how you can, too
I have a whole method and a book I wrote about it called The Telenovela Method where I teach you how to learn Spanish from popular media like TV shows, movies, music, books, etc. that you can all find online for free.  It was the #1 new release in the Spanish Language Instruction section on Amazon for nearly a month after it came out and currently has 17 reviews there with a 4.9/5 stars average.  It's available for $7.99-$9.99 for the e-book version depending on who you buy it from (Kindle version on Amazon is now $7.99) and $16.99 for the paperback (occasionally a bit cheaper, again, depending on who you buy it from).
It's currently available in both e-book and paperback from: