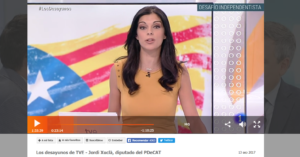 Today I'm going to give you a list of my favorite websites that you can use to help you learn Spanish via watching Spanish-language TV (news, shows, telenovelas, whatever), almost all of which are entirely free.  I've divided it up alphabetically by country.  Here we go…oh, and if any of these links are dead or you know of a site that I left off please leave a comment and let me know, I'll fix it, I promise–which reminds me, I just want you to know that I actually checked each one of the sites below to make sure that they were working and actually had streaming video available, unlike every other list of Spanish language TV/radio station sites I've managed to find online (all of them had links to broken sites, all of them).
Edit (September 4, 2014): Best website for Spanish-learners who want to use Spanish-language TV shows, movies, and cartoons to learn Spanish from:
If this is you, definitely check out both FluentU and Yabla (I used to just recommend Yabla, then FluentU came out of nowhere around mid 2014 and improved quite a bit in the meantime) – these are a fantastic pair of websites and my top recommendations if you're looking for Spanish-language videos for the purpose of learning Spanish.  I emphasize the last part because that's specifically and solely what these two sites are designed for and they're the only two on this list (or in existence, that I'm aware of) that are solely intended for that purpose.  They're also the only two on this list that cost money, just so we're clear (they're cheap, but not free, no).  What they do is take Spanish-language media that was originally produced in Spanish-speaking countries and intended for native speakers (TV shows, movies, news casts, cartoons, documentaries, etc.) and then integrate them into a whole Spanish-learning interface they have that allows you to see word-for-word Spanish subtitles and their English translation at the same time  (you can turn either or both off while watching the video) as well as a dictionary, vocabulary learning game, and flashcard system that's very easy to use and all on the same page as the video you're watching.
Also, I did a whole extensive review of Yabla here that I recommend you check out if this sounds like something that might interest you, plus you can just go on over to their site and try out the free demo videos.  Oh, and they do provide volume discounts for educators and organizations.
First I'll share some of my favorite Spanish-language YouTube channels with you, then we'll get to country-specific TV stations.
YouTube
Español en Episodios – This is one of those series like Destinos or [email protected] that's formulated to help people learn Spanish, so they speak slowly and clearly and at a level slightly below what adults normally would.  They do seem to offer a transcription they'll email you, but they want a small donation for it.
Malvistos – This is a very popular series of comedy sketches on YouTube made in Spain and intended for adult native speakers.  They speak very quickly and use lots of colloquialisms.  I enjoy it but it's definitely difficult to follow, even for me.
MariebelleTV – This is the…vlog(?) of a Mexican girl living in Germany.  She talks mainly about German culture, Mexican culture, German culture as it compares to Mexican culture, etc.  She tends to speak very clearly and, as Latin Americans tend to, noticeably slower than Spaniards (it's not that Latin Americans speak slowly, it's that Spaniards tend to speak very quickly).
Japon con Jamón – This is the very popular vlog of a family living in Japan: the husband is Spanish, the wife is Japanese, and they just had a daughter.  It's very interesting and very well produced.  They talk mainly about (Spanish and Japanese) culture.
Christian Córom – This is a vlog by a Spaniard, Christian Córom, mainly about his travels around the world and the various aspects of culture he finds interesting.  He loves amusement parks and just recently moved to Orlando, Florida.  He speaks clearly and surprisingly slowly for a Spaniard.
Inesmellaman – Another vlog by a Spaniard.  She's a bit more random in her choices of topics but hers is one of the oldest Spanish vlogs on YouTube (I think she's been around for something like 8 or 9 years now).  She's a bit more difficult to understand than Christian above, for example, but it's still usually just her talking and her accent is pretty clear.
Videópatas – This is another comedy sketch channel like Malvistos.  Spanish, very popular, and again they speak quickly and their intended audience is adult native speakers, so you really need to have your listening comprehension skills at a pretty high level to be able to follow along.  I think they're funny.
Music Videos
I can't possibly list every single Spanish-language music video that includes the lyrics, but I will give you some examples and then show you how you can obtain the lyrics for nearly any other one that you want even if the video doesn't include them.
Of course I have to throw in some Shakira videos…
And for the Juanes fans there are a ton, including…
…and many more, just search YouTube for "Juanes letras" ("letras" is Spanish for "lyrics", and you want to search in Spanish because of course you want the Spanish lyrics not an English translation which is what will frequently come up if you say "lyrics" instead of "letras").
Also, there's at least one YouTube channel devoted to publishing Spanish-language videos with their lyrics contained therein expressly for people learning Spanish, I wouldn't be surprised if there are more (tell us in the comments if you know of others).
Where to find lyrics for nearly any song
There are several popular lyrics look-up sites that have lyrics for nearly every song that's ever been even somewhat popular (English, Spanish, French, etc., doesn't matter).  Check out…
Argentina:
Canal 5 Tucuman (a little disorganized but there are tons of videos on there you can watch)
Canal 6 TV (good one, lots of videos of recent news events)
Canal 26 (scroll down to "videos destacados")
CMTV (Music videos, TONS of stuff on here)
Aruba
Teleruba (click on "Teleruba Live!" in the menu bar at the top)
Bolivia
Costas (look under "videos noticias" in the middle of the page there)
Chile
Canal 54 LivTV (click "Ver Señal Online" and it should load up a streaming video player)
Colombia
Costa Rica
Cuba
TV Marti (based out of Miami but it's entirely targeted at a Cuban audience hence its inclusion under the "Cuba" section instead of the "United States" section)
Dominican Republic
Bonao TV Canal 12 (requires VLC player to view, which I highly recommend you get anyway, it's the best video player out there)
Yuna Vision Canal 10 (same story, requires VLC)
El Caribe (scroll down and look on the right where it says "Transmisión en vivo")
CDN (really nice, simple setup, video player works great)
El Salvador
Guatemala
Honduras
Mexico
Televisión Educativa de Mexico
Sistema de Radio y Televisión Mexiquense
RTV de Vercruz (click on "Televisión en Línea")
Grupo Fórmula (scroll down to "Noticias en Video")
SinTesis TV (click on "TV en vivo acqui")
Multimedios TV (scroll down to "Videos más recientes")
Nicaragua
Peru
Bethel Television (look to the right where it says "Señal en vivo" and choose either low or high quality)
JN19 (I hope you like Jesus…)
Puerto Rico
Wapa TV (not available in the U.S.)
TelemundoPR (scroll down to where it says "videos")
Spain
RTVA (tons of videos, the news includes a transcript that usually shows up about 24 hours after it's published on the site)
Popular TV (to get the live feed click "Emisión en Directo" in the menu bar at the top)
Telemadrid (nice clean setup, fast load, recommended)
Congress TV (live feed of Congress, Parliament, and archives – menu is on the left)
Informativos Telecinco (videos are all down the right-hand column of the page)
RTPA (live feed is on the right)
Cinetube.es (thanks to Ramses over at Spanish-Only.com for this one).
United Kingdom
BBC's Spanish Language TV Section – Just awesome, includes Spanish programs from the BBC with downloadable transcripts (!!) as well as Spanish language news and TV shows, absolutely worth checking out.
United States
DominicanYork (hover over "Videos" in the top toolbar and select a section)
Azteca America (scroll down to the "Video" section)
LATV (tons of videos on here)
MTV Tr3s (Music videos – MTV owns them)
HITN TV (educational programming)
Drama Fever (this was submitted by a commenter, if you've got one not on the list please let me know–thanks, Carlos!)
Uruguay
Venezuela
Globovision (click "Señal en vivo" in the menubar at the top)
VTV (click either "Señal en vivo" or "Videos" in the menubar at the top – by the way, this is the official government TV station)
Radio
This list was already really long with just sites that had streaming TV (a lot of them also have streaming radio, by the way), I didn't want to make it any longer or prolong publishing it any more by trying to put together an inevitably equally long list of Spanish-language radio stations' sites, so I've cheated a bit and just put links to other people's lists of such sites where you can listen to Spanish-language radio below.  Again, I can't vouch for how many of the links on the below listed sites actually work, but most of them should be good-to-go at the very least.
Multilingualbooks.com's list of Spanish-language radio stations with live feeds online
E-Spanyol's list of 600 Spanish-language radio station sites categorized by country (see why I didn't want to try to do a list here?)
Live-TV-Radio.com's got a good-sized list organized by country
Other Languages
Unlike the above list, I can't vouch for whether or not all the TV stations' sites listed on the sites below work or not.  If you're looking for TV stations you can watch online in languages besides Spanish, check out:
Multilingualbooks.com's Foreign Internet Television page
wwiTV.com – Biggest compilation I've seen yet, truly impressive.
Like I said in the introduction, if you've got any additional sites that I missed or any of the above links stop working, please let me know in the comments as this page will be continuously updated to keep it current, also…  If you thought the above was at all useful and you want to learn (or are learning) Spanish, please give me a chance and read what I have to say about my book below!  Thank you so much for checking out my blog and I hope you've enjoyed my writing.
I learned to speak conversational Spanish in six months using TV shows, movies, and even comics: I then wrote a book on how you can, too
I have a whole method and a book I wrote about it called The Telenovela Method where I teach you how to learn Spanish from popular media like TV shows, movies, music, books, etc. that you can all find online for free.  It was the #1 new release in the Spanish Language Instruction section on Amazon for nearly a month after it came out and currently has 17 reviews there with a 4.9/5 stars average.  It's available for $7.99-$9.99 for the e-book version depending on who you buy it from (Kindle version on Amazon is now $7.99) and $16.99 for the paperback (occasionally a bit cheaper, again, depending on who you buy it from).
It's currently available in both e-book and paperback from:
Cheers,
Andrew