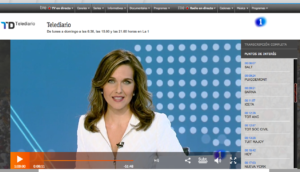 I love these "learn Spanish from ___" series I do, they're great for generating short, quality blog posts when I'm equally short on ideas for new content, plus they're immediately useful, quickly digestible, and direct, so people tend to like them.
This one is going to be based on news and political TV shows from (at the moment) Spain that I watch on RTVE.es (highly recommended).  I try to watch at least an hour of Spanish-language video every day and I usually just default to one of these programs with my morning coffee because it's new content every day and RTVE is really easy to use and free.  Plus, I like using such programs to learn languages because news presenters tend to be well-spoken without being "stiff" and you're extremely unlikely to learn anything wrong, "low class / maleducado", or that you shouldn't say in polite company – you won't pick up bad Spanish, in other words.
Today we're just going to cover a few of the most common terms related to politics in Spain that I've been hearing over the last few months, this should really help you if you regularly watch the news from there:
Had enough yet?
I have.  There are tons more political terms but those are just some that came to mind for me as ones I've heard a lot lately, so I hope that helps you out.  Future articles of this series will probably focus more on a specific story but I just thought we'd try this to get started.  I hope that was interesting, let me know what you think in the comments (and would like me to write about in the future), also…  If you thought the above was at all useful and you want to learn (or are learning) Spanish, please give me a chance and read what I have to say about my book below!  Thank you so much for checking out my blog and I hope you've enjoyed my writing.
I learned to speak conversational Spanish in six months using TV shows, movies, and even comics: I then wrote a book on how you can, too
I have a whole method and a book I wrote about it called The Telenovela Method where I teach you how to learn Spanish from popular media like TV shows, movies, music, books, etc. that you can all find online for free.  It was the #1 new release in the Spanish Language Instruction section on Amazon for nearly a month after it came out and currently has 17 reviews there with a 4.9/5 stars average.  It's available for $7.99-$9.99 for the e-book version depending on who you buy it from (Kindle version on Amazon is now $7.99) and $16.99 for the paperback (occasionally a bit cheaper, again, depending on who you buy it from).
It's currently available in both e-book and paperback from:
Cheers,
Andrew