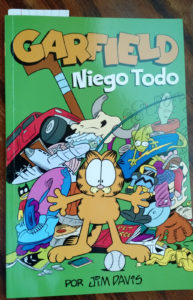 I was contacted some months ago by the publisher of this, Amp Comics (check out their site there, they have other similar stuff if you like this), who had seen my post about learning Spanish from comics and knew I was a Garfield fan (have been since I was about 7 or 8, easily my favorite comic), and wanted to send me a couple copies for review.  I said "sure, go ahead" and have been meaning to write something up for a few months now because it's something I know a lot of people would like, it's very much "what you see is what you get" (it's just…Garfield comics in Spanish, that's it), and it's quite affordable (about $7 on Amazon for either the paperback or e-book).
Now, as I mentioned in that post of mine above that I linked to, you can read tons of (Spanish and English) Garfield comics online for free at GoComics.com, but I really like having a physical paperback version of most books and this is definitely one of them.  First of all, comics don't work well in an e-book format for numerous reasons: differing screen sizes and resolutions means they'll display properly on some people's devices and not others, the comics in this book are all in color and many e-readers are black-and-white only, and it's just nice to have a physical copy to hold in your hands many times.  Some books are actually better as e-books, however this is not one of them (to be fair, I haven't viewed the e-book version so I don't know how good/bad it is but I know it won't look as nice on my black-and-white Kindle as it does in color hard copy in front of me).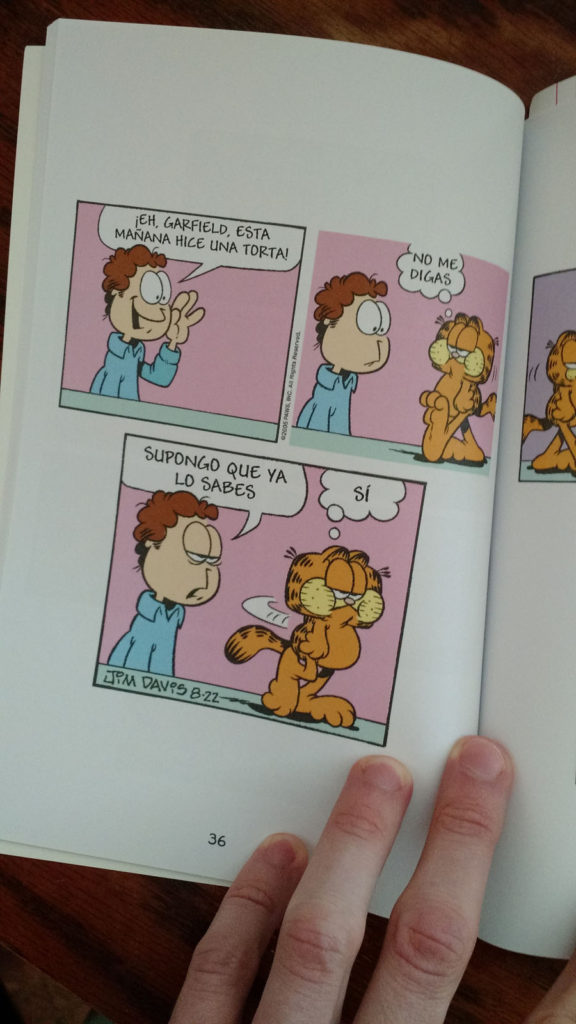 So far I'm perfectly happy with my copy in terms of the physical quality of it: color, pictures, alignment, paper weight, durability, etc. are all very good.  I've been reading it for several months and it's held up just fine (no pages falling out, no spine failure, etc.).
As I noted in my post about using comics in general, they're typically great for beginners (or those of us more advanced but who don't want to exert a lot of effort e.g. at bedtime) because they use very simple language, are short, and funny.  Plus, there are several pictures per comic which act as visual memory aids with which you'll associate any new words you learn – Spanish in the context of a funny comic (or movie or TV show, which is why I wrote a book about how to learn Spanish using such things) is much more likely to be remembered than Spanish in the context of a textbook or mere flashcard or something.  Context matters.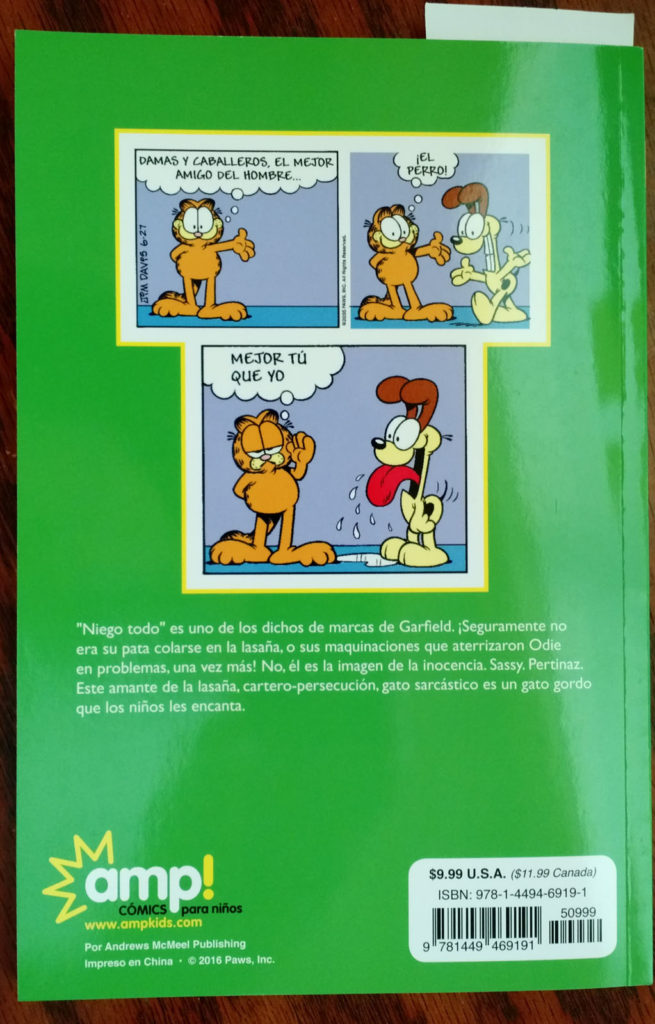 Anyway, I just thought I'd quickly share this with you as it's something I thought some of you would like and it's very cheap if you want it.  Let me know what you think! Also…  If you thought the above was at all useful and you want to learn (or are learning) Spanish, please give me a chance and read what I have to say about my book below!  Thank you so much for checking out my blog and I hope you've enjoyed my writing.
I learned to speak conversational Spanish in six months using TV shows, movies, and even comics: I then wrote a book on how you can, too
I have a whole method and a book I wrote about it called The Telenovela Method where I teach you how to learn Spanish from popular media like TV shows, movies, music, books, etc. that you can all find online for free.  It was the #1 new release in the Spanish Language Instruction section on Amazon for nearly a month after it came out and currently has 17 reviews there with a 4.9/5 stars average.  It's available for $7.99-$9.99 for the e-book version depending on who you buy it from (Kindle version on Amazon is now $7.99) and $16.99 for the paperback (occasionally a bit cheaper, again, depending on who you buy it from).
It's currently available in both e-book and paperback from:
Cheers,
Andrew