Español en 3000 is a podcast specifically for people learning Spanish.  The name comes from the fact that they focus on the 3000 most commonly used words in Spanish, which they claim encompass 94% of spoken Spanish (that's probably about right I'd say).  What distinguishes it from other similar podcasts is that the conversations are entirely natural, not constructed.  Most others in this genre have two people sit down and do a scripted conversation, one that's engineered to teach a specific concept that day (e.g. possessive pronouns, gender and adjectives, the subjunctive, etc.).  It's also a (mostly) Latin American Spanish podcast, that is the overwhelming majority of the podcasts feature native speakers from Latin America, so if that's the kind of Spanish you want to learn, this might be for you.  They're based in Medellin, Colombia, and so Colombian Spanish is featured more than any other type (especially the Paisa dialect).  They do, however, make an effort to get speakers from other regions in order to provide listeners with a variety of dialects.  So far, the dialects featured include: Argentinean, Bolivian, Colombian, Chilean, Cuban, Ecuadorian, Mexican, Iberian (Spanish from Spain), and Venezuelan.  Note that you can select the one you want from the drop-down menu at the top where it says "Study by Accent".
The basic product they've got here is very simple and easy to use, it's just a podcast (a very good one, content matters more than anything), a good audio player with a really useful speed controler, a "mini lesson" at the end where they cover quite a substantial amount of material from the podcast, and a transcript of everything.
The Podcast
They talk about a variety of topics, generally trying to focus on a personal story involving one or some of the speakers, e.g. why someone moved to Medellin, how they fell in love with their spouse, etc.  You can actually choose from a few general areas via the menu at the top; currently available are: aventuras (adventures), relaciones de pareja (romanctic relations between couples), negocios (business), and zambullida (literally "dive" or "diving", refers here to diving into everyday situations, it's kind of their "miscellaneous" category).
The Transcript
If you look at the screenshot of the beginning of one of their podcasts further down you can see just what one looks like: you have the audio player at the bottom (I talk briefly about it below), and a transcript in the middle where each speaker is clearly labeled and lines are separated so that it's easy to follow along.
The audio player at the bottom of the screen follows you as you scroll down through the transcript, so there's no need to scroll back up to try to find it in order to pause or adjust the speed.
The screenshot below is the beginning of one such podcast: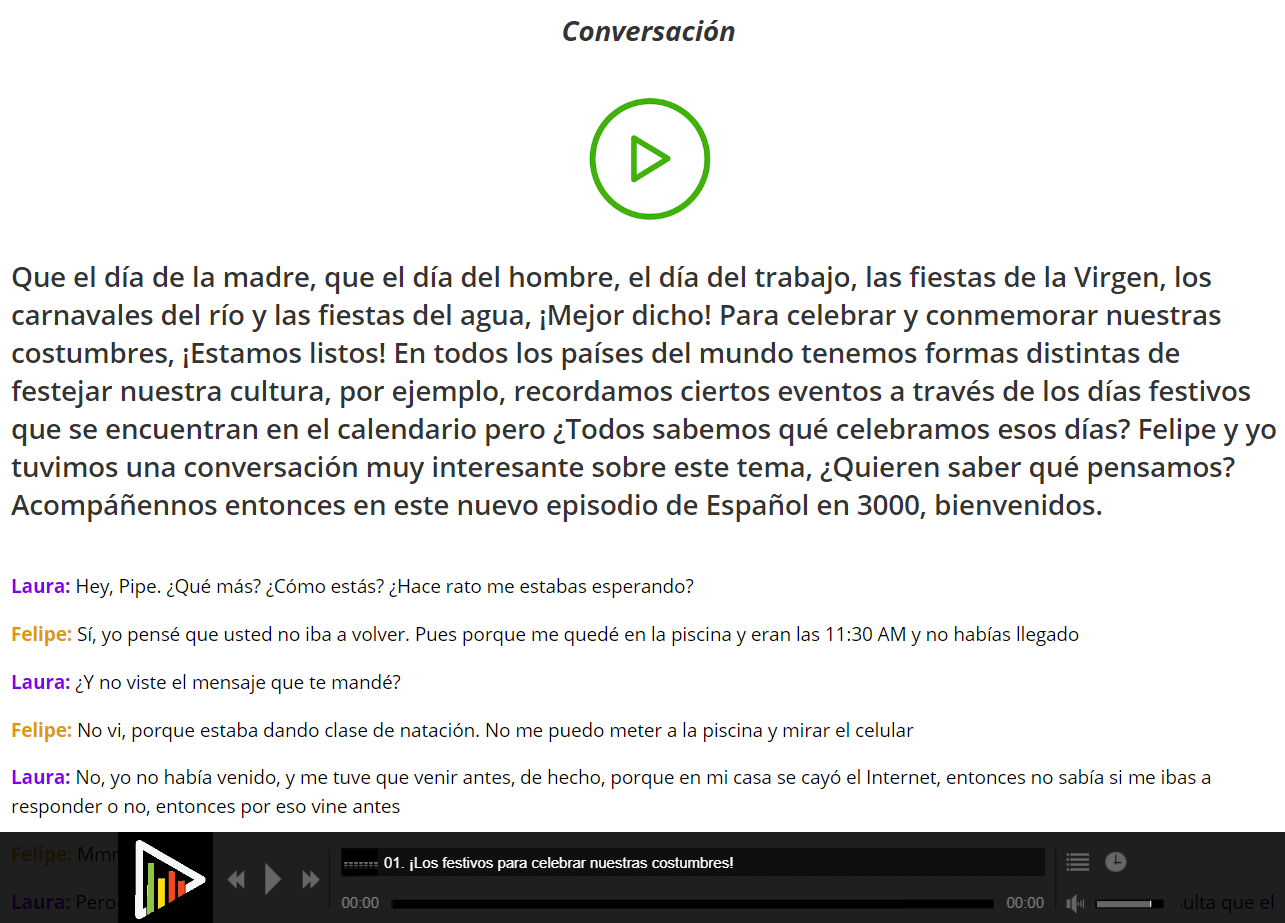 The Audio Player
I was impressed: it's simple, it works perfectly on mobile (the whole site does, just pull it up in your browser, you don't need an app for this podcast), and offers an excellent speed adjustment that allows you to speed up or slow down the audio.  See below for a screenshot of me adjusting the speed (you just click the clock icon on the right hand side of the audio player to bring this up):

The Mini-Lesson
I'd say this is more a full-size lesson.  It's surprisingly comprehensive, they cover a lot of vocabulary, grammar, and slang used in the podcast.
The lesson itself is in audio format, in Spanish, and with a verbatim transcript for you to follow.  Each topic gets a separate section within the lesson.
See the screenshot below to get an idea: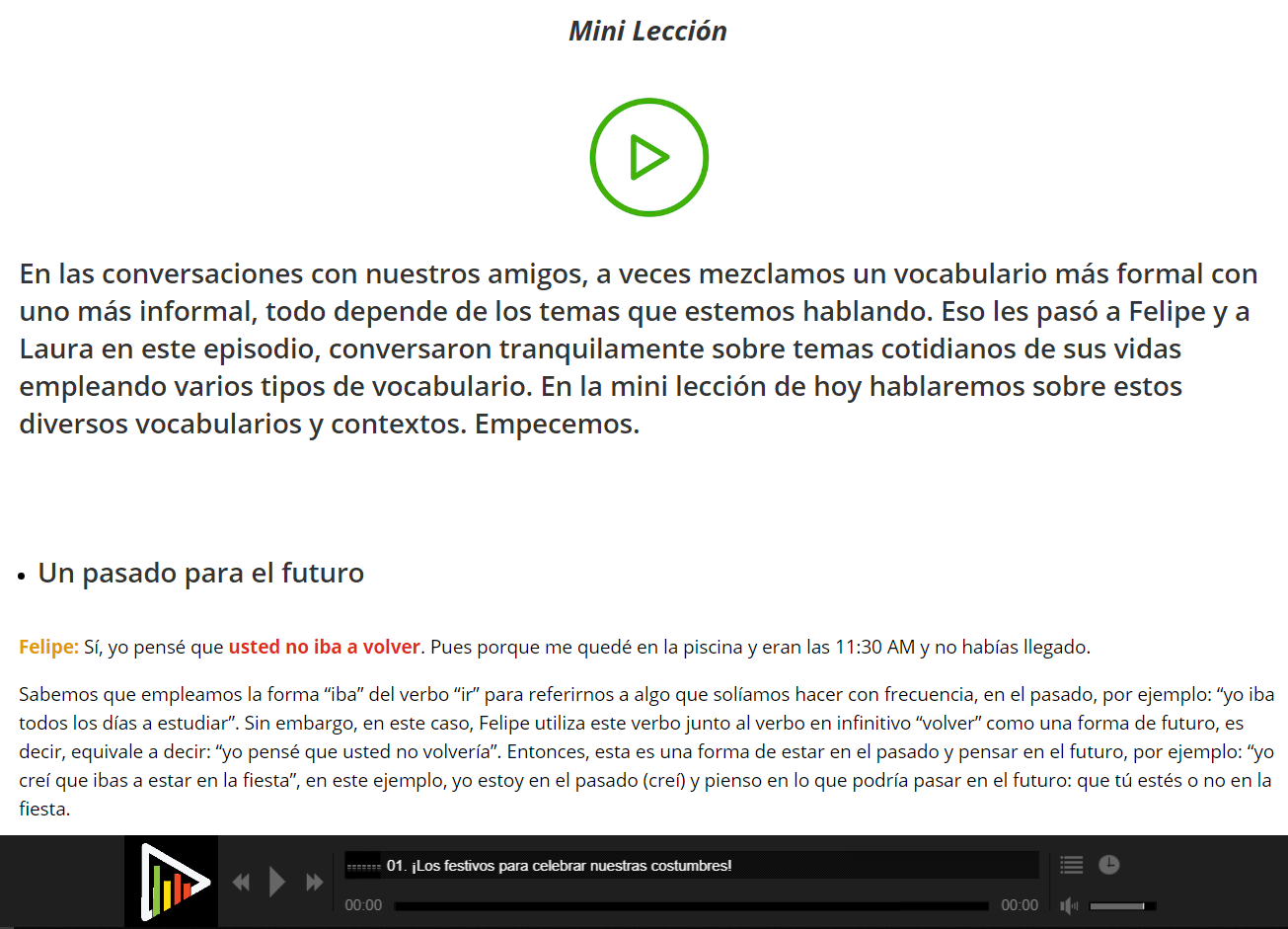 Conclusion
I lean more towards calling Español en 3000 a podcast for intermediate and advanced students than one for beginners, though advanced beginners (A2/B1 level) will benefit from it as well.  Everything is in Spanish, though the fact that excellent transcripts are provided for all of that Spanish audio means that really anybody could use this.
I sort of feel like this is less a case of them competing with other, scripted podcasts (like SpanishPod101) and more a case of them filling a different niche, satisfying demand for something different altogether.  Most students want to move on to working with natural conversations (and away from the scripted, dumbed-down-for-students stuff) as soon as possible, so this I think will find a lot of fans.
Is there a free trial?
Yes.  They offer a 7-day free trial, just go here to their homepage to sign up.  After that it's just $15 a month if you pay monthly, or you can get lifetime access for $147.
Do I use it?
Yes!  Actually, surprisingly, I do find myself listening to a conversation there every now and then.  I was asked to review it by the founder (I actually met him in person in Medellin: Aussie, nice guy), and found myself genuinely interested in a lot of what they were talking about, partly because they were interesting conversations in general and partly because they talked a lot about Colombian and, specifically, Medellin culture and I was staying in Medellin at that time.  I always learn at least a few new words and expressions (most native Spanish speakers not from the regions the speakers are from would find themselves doing that since local slang almost always gets used).
I you found that useful, don't be afraid to leave a comment below or contact me.
Cheers,
Andrew