Update #1: A Tour of My Apartment. What Does $700/Month Get You in Zaragoza?
Hey guys, just wanted to post this video for you that I made, I give you a quick (~10m) tour of my apartment so you can see what I'm getting for what I'm paying in this particular location.  A couple of things to keep in mind:
This is located in El Centro, that is the central part of Zaragoza, one of the most desirable areas to live in the city, and consequently has some of the highest rents.
This is a short-term lease, aka "holiday rental", so the rent is of course higher than a proper apartment with a more normal 6 month or 1 year lease.

It's located at Calle Coso 196 in Zaragoza, Spain: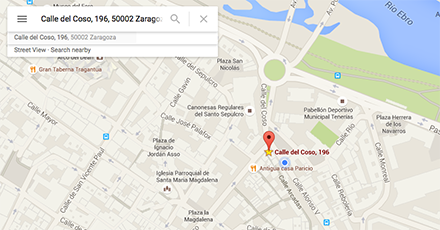 That'll do it for now, more updates to come, be sure to follow me on Instagram (I do cross-post most stuff between Instagram, Facebook, and Twitter, if you prefer one in particular by the way).
Cheers,
Andrew
Get my list of the internet's top 33 FREE Spanish-learning resources here!
I put together a list of
the internet's Top 33 Free Spanish-learning resources
, my favorite language exchanges and Spanish chat rooms, and more. I've spent a great deal of time putting together a 3-part series of articles for you on the internet's best free resources for the Spanish-learner that you'll get when you sign up for my newsletter–in addition to all of what you get below, I'll be sure to send you any updates about cool new sites, resources, and learning tips and techniques that I come up with (I'm currently putting together a whole series that will teach you in great detail precisely how I go about learning a new language):
Part 1:
A very long list of my favorite Top 33 free online Spanish-learning resources (tools, references, sites with free lessons, articles, blogs, forums, etc.) that's far too long to include here, especially with all the other stuff I've got here that's available just on this site alone, and I'd like to offer it to you (completely free, you don't have to do anything other than sign up) right now.
Part 2:
I explain what language exchanges are (essentially they allow you free access to an unlimited number of native speakers to practice your Spanish with), why they're absolutely essential if you're teaching yourself (I'm serious when I say this: it's impossible to get fluent without them if you're learning a foreign language on your own), how to use them, and which ones are the best.
Part 3:
I cover chat rooms which are specifically devoted to connecting you with native Spanish speakers who want to learn English so you can chat with them in Spanish (and they'll help and correct you) and then you do the same for them with their English (these are completely free to use, but rather hard to find, but I'll tell you where the best ones are!). Sign up below!
Related Posts: