The Telenovela Method of Learning Spanish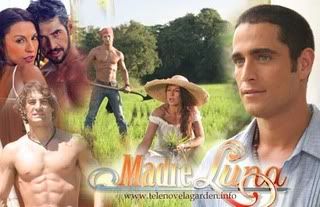 Background (The Story)
I had a friend, years ago, who learned to speak fluent Spanish with a perfect Mexican accent while working as a line cook at an Applebees in New Orleans while we were both in university (he decided to do this because everyone else in the kitchen was a native Spanish speaker with very limited English skills), and the method he used is…interesting, funny, and just plain damn ingenious all at the same time.
What he had to work with from the get-go was the basic grammar and very little vocabulary he remembered from high school Spanish classes from four years prior. He had DirectTV and what he would do is choose a telenovela (soap opera) on Univision and record a one hour episode of it on Tivo (you can watch these online now, I will cover how to do that below). Now, he would play back the episode and, pausing every few seconds, write down verbatim one or two minutes worth of dialog. Then, he would go through those two or three paragraphs of dialogue and learn absolutely everything he needed to completely understand what was being said–he would look up definitions of any words he didn't know, ask friends from work what certain idioms, expressions, or slang terms meant, etc. He would try saying the lines himself, then immediately replay the character saying the line, then rewind, say it again, replay – he would keep this up until he sounded exactly like the actor (and consequently had excellent pronunciation after a very short period of time). This might take him a couple of days because although he could look up definitions and grammar online, often times he would need to consult with a native speaker either via a Spanish or language learning forum or someone he knew from work. He would really learn absolutely everything he could about those few sentences to the point of memorization.
He would initially get through one 30 minute show every few weeks but quickly accelerated because he was learning so much at such a rapid pace. After about a year of this he was fairly fluent and capable of carrying on a conversation with a native speaker about nearly any normal everyday subject which, when you think about just how much conversational Spanish he was exposed to and forced himself to learn, isn't really surprising. Persistence, persistence, persistence

Several years later, when I decided to learn Spanish, I initially started out with formal Spanish-learning programs ("teach yourself at home" type stuff, like Pimsleur and Rosetta Stone and what-not), which work fairly well and I don't discourage their use (though I do encourage you to do your research and be picky), but they certainly didn't come close to making me fluent, or at least fluent enough that I could actually hold a conversation with a native speaker about normal everyday stuff at a normal conversational rate of speed without having to stop and look things up, which is all I really wanted (and, I've found, also what most other people want as well when they tell me they want to learn a language: they just want to be able to talk to people normally).  Then, after I had a little bit of a foundation and knew the basics of Spanish, I decided to try what my friend did several years ago and I started watching Spanish-language movies (which I preferred because, at the time, you couldn't get Spanish TV shows with Spanish subtitles but you could get movies on DVD with them) and trying to figure out how best to learn from them.  As I progressed and ironed out the details I also started applying the method to comics, books, newspapers, websites, cartoons, and any other form of media I could get my hands on–it worked with all of them!  And it was fun!
What I'm presenting to you here is my version of his original method, which I have significantly modified, added to, and improved over the years since trying it out for the very first time: I call this method The Telenovela Method.  It's no longer just watching some Spanish soap operas and looking up and learning the Spanish they use, though that basic technique alone is admittedly quite effective, and that is still essentially what we're doing: using Spanish-language media to learn Spanish by looking up the Spanish they use and then learning how to comprehend, read, write, and speak it.  Oh, and we make a point of choosing media that we (read: you) will find fun, interesting, and/or entertaining so as to prevent us from getting bored or discouraged and then quitting, plus I prefer to recommend things that you can get online for free such as Spanish TV shows on YouTube or Hulu, but that's stuff I'll address in more detail later.  Right now let's dive right in and figure out what exactly it is we're going to be doing and why…
Quick important note before we get started
About 90% of what you're about to read below is an excerpt from my upcoming book on the Telenovela Method which will be coming out sometime around the end of this summer (I hope, haha) and be sold on Amazon as a Kindle e-book for $9.99, so after you read this if you like it and think you might be interested in it then please subscribe to my newsletter, RSS feed, or Twitter feed so you can be notified when it's available (you might even score a free copy!).
How it works and what you'll be doing
The way the Telenovela Method works is by using popular Spanish-language media, that you would otherwise enjoy consuming if it were in English, to teach you Spanish by making you learn the Spanish that's being used in order to figure out what's going on. Being that this (the movie, song, or whatever) is something that you'd like to understand in the first place, you've got good motivation to learn whatever is necessary to understand it, plus the fact that it's something you enjoy (e.g. a movie or song you like) makes the whole process fun and interesting which keeps you engaged and holds off boredom and any feeling that what you're doing is "work". Of course, to understand what's going on you have to decipher the Spanish that they're using, this causes you to learn it in the process of doing so, and then that learning is made permanent by noting all the new Spanish that you learn into Anki (a bit of free software that I personally love, I'll tell you about it in a second) or a similar system (paper flash cards will work, for example) for later structured review as well as actually using the Spanish in question with native speakers via systems like Lang-8 (basically an online pen-pal sort of system) and language exchanges (discussed below) which also teach you how to actually apply and use (that is: speak) the Spanish that you've learned, which is the entire point of all this: learning to speak Spanish.
We're going to use popular media such as movies, music, TV shows, newspapers, and books for our "media", that is our media sources of Spanish that we're going to be learning from. The way that we're going to learn Spanish from these sources is by slowly watching, reading, or listening to them and looking up everything we need in order to be able to understand them as we go. That is, you hear a line spoken in a movie, for example, you then pause the movie and look up any words you don't know and any grammar that you need in order to understand not only what was said but, just as importantly, why it was said the way that it was. Anything that can't be comprehended just by looking up the words and/or grammar can quickly be figured out through either a Google search or by posting a question about it on the excellent WordReference forums (they really are great, I've found that I generally have an answer to my question within ten to fifteen minutes of posting it).
I want you to base your choice of media on what you personally like and prefer, that way you'll be using things that are interesting and entertaining to you, which means the whole process will be much more fun and we'll avoid the boredom that normally plagues language-learning courses and classes. If you like drama, then base your choices on that, if you like romance, the same, etc. Pick stuff that you think you'll enjoy, because if you don't enjoy it then what's the point of bothering? You're not going to want to pay attention to it, it'll feel like work, and you won't want to do it which means that you won't do it, which is the problem we're trying to avoid.
Here's why I like this method:
1.  Most importantly: it's fun, it doesn't feel like work. I can't possibly emphasize how important this is, even though it might seem like it's not, even though it might seem like a trivial or silly requirement. 'Fun' will do more to actually make you succeed at learning a language than any other factor, bar none. Why? Because it keeps you interested, it keeps you paying attention, it keeps you coming back, it keeps you from giving up, it keeps you from getting bored (which inevitably leads to you giving up). Don't overestimate your self-discipline, even the most determined and disciplined among us would be helped enormously by making the process fun versus not. At the very least, you'll accomplish a lot more in a lot less time and with a lot less stress if it's fun and you will therefore do it whenever you can (because, of course, you enjoy it), even when you don't have to, which means that you learn more, faster. This is in contrast to when it's not fun, when it's just more work, and therefore you only do it when you absolutely have to and you don't learn as much, it takes longer, and you're much more likely to give up before really accomplishing much of anything, least of all your original goal, which for many of you is to become fluent in the language. Make it fun.  I thought this was so important that I wrote an entire post about it called The Most Important Factor in Learning a Language Is… that I highly recommend you check out when you have the time.
2.  You learn Spanish as it's currently used right now by native speakers, that is: you learn modern, contemporary Spanish, precisely the kind you want to learn if you want to be able to converse with native speakers and you want to sound and talk just like they do. You learn to speak exactly as they do. You don't learn anything outdated, obscure, or restricted only to more formal environments such as textbooks. You're not taught to be 'overly correct'—yes, you can be 'too correct' in that nobody actually talks like textbooks are written, no one obeys all the official rules of grammar for their native language when they speak it and if they did they would sound very strange indeed. You don't want to sound like that. There's a balance to be struck between sounding intelligent and educated and sounding just plain weird by speaking in a very stiff or overly formal manner.
3.  In relation to the previous point, you learn common slang and curse words: you need to know these regardless of whether you intend to use them or not because if someone else uses them when speaking to or about you, then you're going to at least want to know what they said, now aren't you?
4.  Because it uses material that you, personally, are interested in, you remember what it is that you learned. You learn much more than if it weren't entertaining, and you do so much easier. If you watch a TV show or movie that someone else has chosen that you're not the least bit interested in, how much of what you saw will you remember later? You don't pay attention to it, do you? Now, how about if it's a movie or show that you like and want to watch: how much of that will you remember later? See what I mean?
5.  Availability, cost, quantity, and quality of resources. This one just makes this method so awesome. You'll be using DVDs, television, and the internet (any one of the three will work or any combination of them). Also, honestly, if you don't have cable TV that's not really a problem if you've got either a TV/computer with a DVD player or a computer with internet access. In fact, as long as you've got just one of these three (cable TV, or a TV/computer with a DVD player, or a computer with internet access), you can do this. A lot of the resources are free. Did you get that? F-R-E-E, as in you don't have to pay for any of it, that's like getting a college course where you don't pay for tuition, room, board, or books. And the stuff that does cost money is not only entirely optional but also fairly inexpensive (e.g. DVDs and books). Plus, it's more fun and, believe me (I've taken Spanish and Russian in college and French in high school), a lot more effective than a college course, too. You can't beat that.
6.  It gives you something to talk about with native speakers. People always know about and love talking about current events and contemporary movies, TV shows, and music that they personally like. People do not know about nor wish to speak with you about how you learned to say "I'm allergic to shellfish." or "Where is the library, Juan?" in your textbook. This is massively important and useful when you start talking to natives via language exchanges, which is the last part of the learning process where you take everything you've learned and apply it—it's what truly turns you into someone who's fluent in the language and can talk like a native speaker. I'll tell you all about them, how to find them, the best ones, and how to use them.
Bonus: Not sounding like a doofus when you actually try to speak the language.  One of the many strengths of this method is that when you're using popular contemporary media like movies and books you're learning popular contemporary language, you're learning the language the way that people actually use it, not the outdated or overly formal manner that you find in most textbooks and even a shocking amount of lessons in various costly 'Spanish learning systems'. Most of you are learning a language in order to be able to actually converse with native speakers and therefore this is precisely the sort of learning that you want to do, and making 100% of the language you learn precisely the sort of language that you want to learn makes for fantastic motivation for actually doing that learning.
"You must be persistently consistent."
One of my favorite sayings about learning languages is "You must be persistently consistent." This means that you not only have to be persistent in your study of the language—you could study off and on for years without giving up and that would be persistent—but you also need to be consistent, which means that you put in a certain amount of time every single day. Combine these two together and you're guaranteed to win: consistently study for an hour every day and persist in doing this even when things get tough and it appears you're not making progress or at least not as much as you would like. You must be persistently consistent.
What I mean is that you must be consistent in your study of the language, that is studying every single day and accomplishing a minimum predetermined (by you) amount of work (if you can call it that!), and you must be persistent about it: that means not giving up, continuing on through all the various difficulties and complications that life will inevitably throw at you. If you do this, success is inevitable. What I'm talking about here is making it as easy as possible to accomplish this by making the studying and learning process itself as easy as possible by making it as fun and interesting as possible by using media that not only does an excellent job of teaching us the kind of Spanish that we want to learn (modern contemporary Spanish as it's used day-to-day by native speakers) but which also interests and entertains us.
That leads me to my next point: everyone, when learning a new language, hits plateaus when they're studying and learning new material but it doesn't seem to be progressing their ability in the language any further: it is, it is helping you progress, but you're just not seeing the results yet, that's all. Be patient, be persistent, and one day you'll have a massive breakthrough that will suddenly catapult you to a higher level, and then you'll really see that all the work you put in previously where it didn't seem to be helping actually was, it was making a difference, you just couldn't perceive it at the time. This cycle will repeat itself many times over:
You work, you get a little bit of progress you can see.
You work, you see a little more progress.
You keep working but you stop seeing progress for a bit (this is what's called a "plateau").
Still working…still no visible progress. Getting discouraged…
You persist and keep working and one day you see a large and abrupt improvement in your abilities, all that previous work seems to have paid off all at once, a big lump sum payment of sorts.
You keep working and make slow progress like before.
You keep working and eventually progress seems to halt for a while…
Wash, rinse, repeat. This is a rough version of the general cycle you'll experience while learning something as complicated and expansive as a whole new language. Get used to it, don't get discouraged, be consistent in your studies, and be persistent in doing those studies: be persistently consistent and don't give up.
Let's get started: How to do the Telenovela Method
Resources
First of all, you're going to need certain resources in order to perform the Telenovela Method: obviously, a dictionary of some sort, something to look up verb conjugations, maybe a grammar reference, stuff like that.  I actually decided to make this a separate post for two reasons:
It would make this post ridiculously long if I included it here, and it's already going to be pretty long to begin with.
I've been meaning to put together a post on my favorite Spanish-learning resources that I actually use every day anyway.
So what you need to do is open it in another tab and read it right now, I've also included several instructional videos showing me demonstrating the resource in question so I really hope you like those.  Here it is: Spanish Learning Resources & Tools: These Are My Top 9 Most Used, Most Valuable, and Most Recommended.
The Telenovela Method (or: what to do)
Ok, once you've got your resources and you understand how to use them, we will now actually start learning and applying the Telenovela Method itself.
First, you need to choose the material you're going to learn from: pick something you genuinely want to watch, listen to, or read that's in Spanish, be it a TV show, movie, music video, book, magazine article, comic strip (yup! I talked about those here, my personal favorite is Garfield) or whatever else, pick something that sounds interesting or fun to you. If it's a movie, TV show, or song, make sure you can pause it somehow, either by pausing it in the case of a DVD or, if it's a TV show, by using your DVR to pause it if you have one. In the case of a TV show you could also record it and watch it later.
With regards to movies and TV shows: they need to have subtitles (preferably Spanish) and/or you need a transcript of what was said. For music, get the lyrics from sites like AZLyrics or similar (just google "[song name] lyrics"). For books, you want to actually have two copies of the book: the Spanish version and the English version (that way we've got a perfect contextual translation of the Spanish: sneaky, huh?). For newspapers and magazines and such we can just use Google Translate to translate the whole website for us into English which will give us our translation to work off of.
The best type of subtitles/transcript/lyrics to get is a word-for-word transcription in Spanish, it's actually preferable to an English translation of what they said because although an English translation will give you the meaning of what was said and it will give you clues as to what exactly was said (word-for-word), it won't come right out and tell you, whereas a direct Spanish transcription will, and we want to know precisely what was said word-for-word in order to learn it. This is why we want Closed Captioning (for the hearing impaired) turned on when we watch our TV shows and not the English subtitles, it's why we want our Spanish movies to have Spanish subtitles available and not just English ones.
There are two phases to the Telenovela Method:
1. The Learning Phase: this is where you're paying more attention to the subtitles or written lyrics of a song than you are to what you're hearing. The reason is that we need to learn every last bit of Spanish that's necessary to understand what we're hearing, this means we're watching the subtitles and we're pausing every time we see something we don't know or understand, we're looking it up, and we're putting it in Anki or on flashcards for later review. The Learning Phase occurs during the first viewing or listening of a movie, song, or show and, once complete, you immediately go into the Listening/Speaking Phase with that same show, song, or movie as you view or listen to it in subsequent repetitions (e.g. the second, third, or fourth time you watch a movie).
Here's what to do:
1. Play the TV show or movie, keeping the subtitles uncovered.  With music you can just find the lyrics online and learn all the Spanish necessary needed to understand them before ever listening to the song for the first time (so the first time you listen to the song you already know all the Spanish being used and you're in the second phase).
2. Pause it after each line where there is anything that you don't understand (a word, the grammar they use, a phrase or expression, etc.).
3. Read the subtitles or transcript to determine what was said.
4. Refer to our reference materials and tools mentioned earlier to determine all pertinent definitions and grammar. Do not go on until you have obtained a satisfactory understanding of what was said: what is to be considered a "satisfactory understanding" is entirely up to you, you can choose to just make sure you get the general gist of what they're saying and then move on or you can be like me and insist on understanding everything, or you can do something in between.
5. If you don't get everything that was said on this go-round: no, it's not a problem, and yes, you will learn those things (words or grammar or what-have-you) that you didn't get this time at some point later on when you encounter them again and decide you need to figure them out—that might be the next time you see them or it might be the fifth time you see them used, regardless you will end up learning them sooner or later if you keep at this, no worries. So yes, you can choose to stop at a certain point and say "ok, that's good enough for now, let's move on"—where that point is will be up to you and decided based upon your own personality and learning style. Please don't be afraid to experiment and basically just kind of screw around with my method here that I'm teaching you in order to make it best work for you, that's exactly what you should be doing!
6. Enter all words and phrases you don't know into Anki or onto flashcards for later review: this is very important and will make the learning process go much, much faster and will prevent you from ever having to look up the same word twice. You can also enter any grammar rules that you'd like to make note of.
7. Either continue on like this for the duration of the entire show, song, or movie and then go back and apply Phase 2 to it, or you can break it down into 5-10 minute segments that you've done Phase 1 with which you will now go back and apply Phase 2 to, after which you'll do the same thing with another segment, then another, etc. If you're a beginner and this is a TV show or movie, I'd recommend that you do the latter and work in 30 second to 5 minute segments where you apply the full Telenovela Method (including the 2nd phase I'm about to cover) to each segment, and then move on to another segment. This way you handle it in chunks and don't get bored. If you're at an intermediate or advanced level, you can just do the entire movie or show in Phase 1 and then go back and apply Phase 2 to it.
You have just learned more spoken and written Spanish in the 30 minutes it will take you to do that with a couple of lines than you would in a week's worth of Spanish classes in most colleges and high schools! Why? Because you had to learn everything about those few sentences to really understand them, you had to cover a lot of different grammar and vocabulary, and you had to learn any slang and expressions. You'll learn a lot more by doing this with just a few sentences per lesson each day than you will by glossing over a bunch of Spanish or trying to stay awake through a dry and boring lesson from a home study course or a class. By the way, each 'lesson' you give yourself should probably be about 30-45 minutes at the most, then you should break for 10 or 15 minutes before coming back if you're going to do so.
2. The Listening/Speaking Phase: This is where we've already learned all the Spanish that's used by the speakers in this particular show, song, or movie, or at least the portion of it that we're working on at the time, so we don't need to look anything up, but just because we know the Spanish doesn't mean that we can understand it when it's spoken out of the blue at full speed at us, and it certainly doesn't mean we can speak it properly, now does it? You can be able to perfectly understand Spanish that's been written down for you that you've got all the time in the world to process without having to look anything up, but being able to understand what a native speaker is saying as they're saying it at a full conversational rate of speed is a different story.
You've already learned all the vocabulary, grammar, and syntax that you need to be able to understand the show, song, or movie (or the segment of it that you're currently working on), now we're going to work on listening comprehension and speaking ability. Here's what to do:
1. This time we won't need the reference materials…well, we won't need them as much, but I'd still recommend you have them handy as you'll inevitably forget a few things ("wait a second, what's that word mean?") since you last looked them up or reviewed them in Anki. So have a dictionary at hand if you're in front of the TV or have SpanishDict pulled up in your browser window if you're watching it on the computer.
2. Play the movie, show, or song with the subtitles covered up so you can't see them (turn them on, but cover the bottom half of the screen with something). I use a folded piece of paper.
3. Listen, listen very carefully and try to make out precisely what the characters are saying as they're saying it. The second you hear something you can't understand before the next line is spoken, you pause it, rewind, and replay it. Can you understand it after having replayed it a couple times? If yes, go to step 5, if no then go to the next step.
4. Replay the scene with the subtitles covered up again: can you make out every word that they're saying and understand them? If not, try uncovering the subtitles and replaying the scene while reading the subtitles. Do this a couple of times. Then cover them back up and try again. When you can understand precisely what they're saying and make out every word without the aid of the subtitles, you're ready to move on.
5. Now that you can understand the line in question, you need to work on learning how to say it yourself. Try reading from the subtitles and speaking it, then replay the scene in question and see if you're saying it just like the speaker. Rewind and replay the scene, each time pausing and repeating after the speaker immediately after they say the line, then rewinding it and listening again to see if you sound like them: rewind, replay, and repeat what they said as many times as is necessary to get yourself to where you sound exactly like them…that is, you pronounce everything as they do and say it just as fast as they do.  Do the best you can, if you're not perfect after a dozen or so repetitions, go ahead and move on to the next line.  Don't worry about it, you'll get better over time, give it your best shot for a couple minutes and then move on, don't get stuck on one line playing it over and over and over again until you're fed up and you hate yourself and this technique, that's not the way to go and is actually very counterproductive.
That's it! That's the basic Telenovela Method (I go into a lot more detail in my upcoming book on it that'll be out in a few months, sign up to my mailing list to be notified when it comes out, it's going to be 200+ pages about the Telenovela Method and how to learn Spanish online for free, and it will be available as an Amazon Kindle e-book for just $9.99). That's how you learn to understand what native speakers are saying when they're talking at full speed and that's how you learn how to talk just like them! You had to learn how to comprehend what they said at full speed without the benefit of subtitles, and you had to learn how to not only say what they said exactly the way that they said it (and therefore forcing yourself to learn fantastic pronunciation) but you had to do it just as fast as they did (normal conversational rate of speed). You sound just like the native speakers, right? Exactly, that's the point, and soon you'll be able to talk just like them about anything you choose. Can you see how, if you keep this up and do this even with just a few movies, you could easily end up able to hold a conversation with a native speaker about nearly any common topic within just a few months (I would guesstimate maybe 4-6 months, depending on the person and how much time and effort they put in)?
Each movie or show contains an enormous amount of language in it: all the dialogue, in total, amounts to a very sizable portion of the entire language in question, you're talking thousands of words used in all sorts of different combinations requiring many, many different types of grammar and syntax. If you learn all of that such that you can understand the whole thing, you're learning an enormous amount of the language. And that's just one movie or TV show episode. Do you see how effective this can be?
This, in essence, is how people have always learned to speak a language as well as the natives do: they listen to the natives and repeat after them, constantly correcting themselves to sound as much like what they're hearing as possible, over and over again until they sound just like the native speakers do.
This is how it's always been done, this isn't a recent development: before people did this with music videos and DVDs they were doing it simply by listening to people around them talk, trying to understand what they were saying and then trying to imitate them, making tons of mistakes, correcting themselves and being corrected by others, and eventually ending up such that they talk just like the natives do.  This is how languages are learned, whether it's a small child learning their first language or an adult learning their fifth, it's still essentially done in this manner: you listen to the native speakers, do your best to figure out what they're saying and what the words mean (whether by context or dictionaries or whatever, doesn't matter, it just needs to work), and then you imitate them, constantly making and correcting mistakes, until you sound just like them! The only difference now is that we can do it from the comfort of our homes thanks to technology instead of having to travel to the country where the language is spoken in order to hear native speakers talk.
A quick note…
You may also want to check out my List of Best Free Sites to Watch Spanish-Language TV Online where I put together THE most comprehensive list of sites where you can watch Spanish-language TV online for free that you'll find – I checked every other available list on the internet in the process of putting this together and, as such, mine not only includes more sites but ALL of them are guaranteed to work because I personally hand-checked each and every one to make sure you could use them and that it didn't cost anything. Every other list I checked had dead links in it (links to sites that no longer worked). Note that these sites generally don't provide Spanish subtitles (or any subtitles, typically), for that please see my above-mentioned list of sites that have Spanish videos with Spanish subtitles. I mention this list in addition to the one with Spanish-subtitled videos because this one has many, many more sites available (it's kind of hard finding videos in Spanish with Spanish subtitles, let alone online and for free, there are relatively few).
Keep checking back in on this article, in the next few weeks I will be adding…
Videos!  Videos everywhere!  I'll be adding several videos of me demonstrating the Telenovela Method with various materials such as telenovelas and other Spanish-language TV shows, movies, music videos, and more.
How to integrate language exchanges into your Spanish-learning routine as part of the Telenovela Method.  This is one of the absolutely vital steps in learning a language: you must speak to other people, preferably native speakers, and I'm going to show you not only how to do this very early on (yes, even if you're a complete beginner you can do this!) but I'm going to show you how to use it as part of the Telenovela Method such that you're actually taking what you learn from your preferred Spanish-language media (movie, TV show, whatever) and then using it to communicate with a real, live native speaker so that you can learn how to correctly use the Spanish you're learning by using it with a native speaker and then getting feedback from them (trial and error is your friend!).  Not only do you learn how to use the Spanish you're learning but this is also a fantastic technique for permanently cementing that Spanish in your mind, this is the ultimate way to memorize it so that you never forget it.  For what it's worth I'll probably do this as a separate post altogether on how to use language exchanges, but it will be linked to from within this one–you can also subscribe to either my RSS feed or my Twitter feed so that you'll be updated as soon as I publish a new post, and of course I'll also be sending an e-mail to my newsletter subscribers as soon as it's published as well.
If you're interested in learning Spanish (especially if you're a beginner), read this…
Edit (September 11th, 2012): I've got a new post that I've just put up that I'm recommending everyone interested in learning Spanish go read if they haven't already (if you have, ignore this, sorry): How to avoid wasting months learning Spanish the wrong way (basically this is my "how to get started right in learning Spanish" post for complete beginners) and this post on the Telenovela Method (which you just read, good job!). Additionally you can check out the front page for a more complete list of my best and most popular posts.
Alright, well I think that's it, if you've got any additional tips or resources (or questions), please please please post them in the comments, they're more than welcome!!
Get my list of the internet's top 33 FREE Spanish-learning resources here!
I put together a list of
the internet's Top 33 Free Spanish-learning resources
, my favorite language exchanges and Spanish chat rooms, and more. I've spent a great deal of time putting together a 3-part series of articles for you on the internet's best free resources for the Spanish-learner that you'll get when you sign up for my newsletter–in addition to all of what you get below, I'll be sure to send you any updates about cool new sites, resources, and learning tips and techniques that I come up with (I'm currently putting together a whole series that will teach you in great detail precisely how I go about learning a new language):
Part 1:
A very long list of my favorite Top 33 free online Spanish-learning resources (tools, references, sites with free lessons, articles, blogs, forums, etc.) that's far too long to include here, especially with all the other stuff I've got here that's available just on this site alone, and I'd like to offer it to you (completely free, you don't have to do anything other than sign up) right now.
Part 2:
I explain what language exchanges are (essentially they allow you free access to an unlimited number of native speakers to practice your Spanish with), why they're absolutely essential if you're teaching yourself (I'm serious when I say this: it's impossible to get fluent without them if you're learning a foreign language on your own), how to use them, and which ones are the best.
Part 3:
I cover chat rooms which are specifically devoted to connecting you with native Spanish speakers who want to learn English so you can chat with them in Spanish (and they'll help and correct you) and then you do the same for them with their English (these are completely free to use, but rather hard to find, but I'll tell you where the best ones are!). Sign up below!
Related Posts: