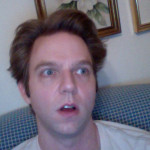 Wow.  I can't possibly tell you how relieved I am that it's finally over (see that over there? that's my best "I'm so relieved" face, though it more looks like I've just become incontinent).  I decided almost two years ago (January of 2011) that I needed to create my own product instead of just promoting someone else's and that it would be an e-book.  I've barely had time to do anything else, like write blog posts (sorry…) or even work on my own Spanish let alone other languages I really want to learn (French, German, Japanese, Brazilian Portuguese, Russian, and more).  I've let my Spanish deteriorate (it was far better 2 years ago than it is now) though I've immediately begun remedying that, it's the top priority on my list of things to do.  I'm also going to be publishing new posts on here regularly again, some of which will be short excerpts from the e-book in the hopes that people who haven't bought it will get a taste of it and decide the full ride is worth the ten bucks.
Oh!  And I'll also be doing (more) videos.  Yeah, I have a YouTube channel in case you didn't know.  Not sure what I'm going to do just yet but that's pretty high on the list along with new blog posts.
So, moving on to the book…what's it called and what's it about.  Well, here's the title (I'll also link to it on Amazon so you can check it out):
The Telenovela Method: How to Learn Spanish Online for Free Using Spanish TV, Music, Movies, Comics, Books, and More
What do you think?  The title pretty well summarizes it: it's about how to teach yourself Spanish, on your own (no classes, courses, or expensive computer programs necessary), using a combination of entirely free online resources and Spanish-language popular media like TV shows, music, movies, books, etc.  Amazon is saying that it's the paperback equivalent of 214 pages but I'll tell you right now that it's going to be waaaay longer than that on pretty much any type of device you read it on (it was 125 pages as a single-spaced Word doc, font size 12, Times New Roman).  It's basically my entire method laid out in perfect, comprehensive detail for you, covering every single little step and detail.
The book contains over 400 links…yes, 400.  I was serious about the "online" part.  It also includes over 7 hours of video.  Yes, seriously.  How did I manage to include video with a Kindle e-book, you might ask?  Well, despite the cool new KF8 format Amazon's just come out with that allows you to embed videos in the ebook (this wasn't around at the time I was writing it), what I did was very simple and effective: I just uploaded the videos to a video hosting site (two, actually: one was YouTube and the other was iPlayerHD with whom I have a paid account) and then linked to them from within the e-book.  Simple.  I used two video hosts primarily so that people in countries where YouTube was blocked would still be able to see the video, plus each one backs the other one up in case one of them goes down.  The videos are me personally demonstrating the concepts that I'm teaching in the book, with the relevant video linked to after each section or concept that I made a video for (e.g. the video of me demonstrating the Telenovela Method with a movie is at the end of the chapter on how to use the Telenovela Method with movies).
Here's a more detailed breakdown of what's inside, chapter-by-chapter with a short summary explaining what each one is about:
Introduction: Why this method, where it came from, and how to use this book and the resources it contains
Where this method originated, the 6 reasons I like it and why it's so effective, and how to use all the links and videos contained in the book.
Section I: Method
Chapter 1: How My Method Works, Why It's Awesome, and Why Most People Who Try to Learn a Language Fail (and How to Prevent that)
How the Telenovela Method works, the basic principles behind it.
Chapter 2: Resources You Need
The resources you need to do this: the websites to use for reference, where to watch telenovelas and other Spanish-language TV shows online for free, DVDs and books you can use, where to ask questions about anything that might confuse you, where to find Spanish-language newspapers and magazines online for free, etc..
Chapter 3: The Telenovela Method
The actual Telenovela Method. This is where I actually explain, step-by-step, how to do it. Mind you, this guide is a general one and we will need to modify the method slightly depending on whether this is our first viewing of a movie or TV show or not, and also based on the material being used (movie, book, comic, newspaper, etc.)—I will cover how to apply the Telenovela Method to specific forms of media (movies, books, etc.) in later chapters.
Chapter 4: Reviewing the Material with Spaced Repetition Systems
What spaced repetition systems are, why they're so useful (they essentially allow you to ensure that you never forget anything you've learned by spending just 15-20 minutes per day, max, reviewing with them), how to use them to effectively review what you've already learned and noted, and which one I recommend and why.
Section II: Sources of Popular Media and How to Use Them
Chapter 5: Kids' Stuff: Why It's a Fantastic Resource (especially if you're a beginner) and an Example of How to Use It
Why I'm such a huge advocate of using Spanish-language children's resources (cartoons and fairy tales in Spanish that you can find online for free in large quantities, for example) and an example of me demonstrating how to use one of my favorite ones.
Chapter 6: Telenovelas and Other TV Shows
How to specifically work with telenovelas and other TV shows. This will include where you can view them online for free in addition to where to get them on DVD, and I even managed to find websites where you can not only view full episodes for free but also which have Spanish and English subtitles on all of them.
Chapter 7: Movies
Movies! My favorite. I'll tell you how to use them and why they are my personally preferred choice of material to work with, plus I've got a huge list of movies you can get off of Amazon that are in Spanish and have Spanish subtitles for you: that list alone is worth the price of this book.
Chapter 8: Music
Music, how to use it with the Telenovela Method, where to find Spanish-language music online, and where to find the Spanish lyrics and the English translation of them for free.
Chapter 9: Written Material: Books, Magazines, Newspapers, Comics, and Children's Books
Books, Magazines, Newspapers, Comics, and Kids' Books. I'll teach you how to use the Telenovela Method with written material, and I've got a fantastic little trick that I use with books where you get a Spanish and an English version of the book (this is known as using "parallel texts"). Additionally, I'll show you where to find books online for free to read as well as all the other sources such as newspapers, comics, and magazines.
Section III: Using It with Native Speakers: Where the Real Learning Happens
How to immediately start applying what you're learning by using it to communicate with native speakers.
Chapter 10: Lang-8
You can do this using only written communication via a fantastic website called Lang-8…
Chapter 11: Language Exchanges
Or you can do it by speaking during what's called a "language exchange" where you practice your Spanish with a native speaker who helps you with it in exchange for you helping them with their English. You'll use a free program called "Skype" (you're probably already familiar with it) that allows you to make free phone calls via the internet to anyone else with a Skype account (accounts are free), you just need a microphone and speakers or headphones (if you both have webcams you can see each other in real time during the call, very cool—yes, Skype supports video conferencing).
Section IV: Bringing It All Together and Getting Started
Chapter 12: Creating the Best Method for YOU
How to put together your own person method that is the most effective one for you. Everybody has different needs, preferences, and a different optimal learning style. I'll show you how to adapt what I've taught you to yours.
Chapter 13: Some Step-by-Step Examples of How to Get Started Right Now
Also, I'll give you some specific examples of systems that you can use to get started right now, and those examples are designed by me to be the most likely to suit the most people as well as possible, so they're specifically designed to be immediately adopted by the reader and put into service straight away–you can later modify and tailor them to you specifically which I showed you how to do in the previous chapter.
Appendices
In the appendices I've included some extra tips and additional resources including a list of movies in Spanish that have Spanish subtitles which are available on Amazon, a list of websites where you can watch Spanish videos that have Spanish subtitles online for free, and a list of free online Spanish lessons and courses that you can use to help get you started and/or as a reference to look up anything you don't know (I show you how to incorporate these into your system in Chapters 12 and 13!).
Appendix A: List of Websites Where You Can Watch Spanish-Language Videos With Spanish Subtitles or Transcripts Online for Free
Appendix B: List of Spanish-Language Movies with Spanish Subtitles Available on DVD from Amazon.com
Appendix C: List of Telenovelas You Can Find on Amazon.com with English Subtitles
Appendix D: Free Online Spanish Lessons and Courses
I really hope you decide to buy it and check it out, again here's the link to it on Amazon
, and as usual: please feel free to contact me and let me know what you think or ask any questions you might have, I'm more than happy to help.
Cheers,
Andrew