I just finished trying a new service called GoSpanish and I'll cut to the chase: flat rate of $35 per month for unlimited Spanish classes at four different levels with high-quality teachers, class sizes averaging 2-6 students, and which you can participate in from any device with internet (works on desktop, laptop, and smartphone – I tried all 3).  DO IT.
A few more details…
Cost
The $35 per month is their cheapest plan (Silver) but even the cheapest plan gets you unlimited classes.  I suspect they'll change this in the future but those who get in on the original deal will probably be able to keep their original plan at the original price (in other words: they're low-balling themselves, get in now).  The two additional plans are at $59 and $79 per month and they merely get you some private classes (2/month and 4/month, respectively).
For those of you wondering how that compares with what you'd pay for a 1 hour class with a good tutor on iTalki: fear not, I have done the math for you.  A good Spanish tutor on iTalki will run you about $10-15/hour, with GoSpanish going from the $35 plan to the $59 one gets you 2 private, 1-hour classes (with good teachers in my opinion) for an additional $24 (59 – 35 = 24), or $12/class.  Pretty reasonable.  If you go for the Platinum plan at $79/month, that nets you 4 private classes for an additional $44 (79 – 35 = 44), or $11/class–so a slightly better deal.
Honestly, that's pretty good: that's at the low end of what you'll find on iTalki if you find a good teacher for that rate (you can, but you'll likely have to try a few first).  If you want private tutoring, the upgrade is probably worth the premium, yes.  If you don't, it's not.  You're not going to do much better than $11-$12/hour anywhere else.
Classes
The classes are broken down by level and there are four of them: Beginner, Upper Beginner, Intermediate, and Advanced.  "Beginner" is for people starting from scratch who speak absolutely no Spanish whatsoever, Upper Beginner is for those who are still beginners but can at least find their way around a bit (corresponding to A2 of the CEFR scale for those familiar).  Intermediate and Advanced are the classes I took and I would place their Intermediate Class at B1 on the CEFR and their advanced class at B2 (you'll be hard-pressed to find anybody running C1 or C2 level classes for any language outside of expensive tutors who specialize in teaching people to pass those exams).  You need to be conversational if you're going to take the intermediate or advanced classes.
There are 15 classes held per day by my count, each one is 1 hour long.  That typically means 2-3 per day of each level, except Advanced.  From what I saw there was only one Advanced class per day and it was the last one of the day at 8 PM my time (CST, I'm in Texas, so that's 9 PM EST and 6 PM PST).  I'll post a screen shot of their class schedule below.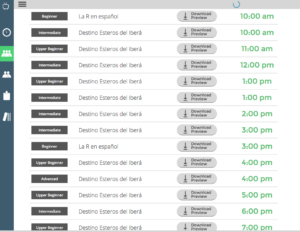 Teachers
The teachers were all very good by my measure, and I've got years of experience with dozens of tutors at this point.  They're all native speakers and all of the ones I had were Argentinean, for what that's worth.  They all spoke very clear, neutral, South American Spanish.  None of them had the strong, stereotypical Argentinean accent (the "che"/"she" thing).
How It Works
The teachers have basic lesson plans and, at least at the intermediate and advanced levels, do an approximately 50/50 mix of exercises and casual conversation, which I think is just right.  At the beginner level (I did not take a beginner class) there is probably more structure and less conversation simply because beginners don't yet have a strong enough command of the language to hold a conversation for very long.
They make a point of calling on the students equally, in order, so that everybody gets about equal participation (unless you choose to merely listen in, which you can do).
The way the exercises function are basically as springboards into conversation about the subject they address, e.g. a recent session I did (which I have a video of) talked about estuaries in Argentina and the animals that inhabit them, which led to a discussion about wildlife and parks in both Argentina as well as in the places the students lived, so we all had an interesting discussion about that and learned not only some Spanish but also a bit about the different regions the teacher and students were located in like the everglades, alligators, and manatees in Florida where he lived (all of this was in Spanish, of course).
You start off by reading (the teacher has each student read a portion out loud, correcting any mistakes they make) about the topic of the day, in this case estuaries in Argentina: