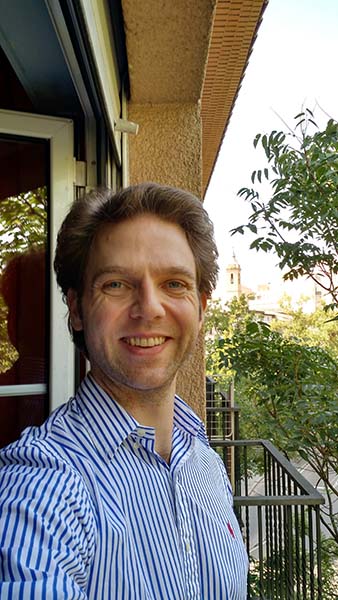 Hi, I'm Andrew Tracey, that's me on the left in Zaragoza, Spain (my first day!).  I lived there for three months in 2015, and yes, I was able to communicate with the natives using the Spanish I'd taught myself as you've likely guessed.  I learned Spanish, on my own, mostly from popular media in Spanish (movies, TV shows, music, books, etc.).  That's the method I generally (but not exclusively) espouse.  You can read more about that and many other things in the blog posts below, but here I'd like to share with you my story and my passion for languages and other cultures, why I do this – I'll keep it brief, I promise.
About eight years ago I was what was known as an "internet marketer": this just meant I ran websites about whatever (how-to articles, herbal remedies, funny videos, tech articles – I did 'em all) and made money off the ads and products I sold.  This worked…it also sucked (boring, tedious, yada yada – the usual "I hate my job" whining).  I sold every online asset I had and started this blog about how to learn Spanish…because I had just spent the last six months (eight hours a day, six days a week) learning Spanish and felt qualified enough to write about how I'd done it.  This was after having tried and failed on five separate occasions to learn five other languages (including Spanish) since the age of twelve.
I had always had a passion for learning languages because, and this is important, because I had a passion for learning about other peoples and other cultures.  For me, languages are a means to an end, not an end in themselves.  At heart, I am not a pure language nerd, I'm not a puzzle-solver.  I don't like learning the grammar of some new, obscure language just because it's different and intriguing (that's enough to make me give it a cursory once-over but not enough to get me to learn the language).  I'm interested in languages whose countries, cultures, and most importantly…people intrigue me.
I just wanted you to know where I'm coming from and that I'm probably one of you (I find that the overwhelming majority of people who want to learn a language have similar motivations: they're interested in the people who speak the language far more than the technical details of the language itself).  I want to help you make new friends in new languages.  That's what I do.
Below are my twenty most recent blog posts, you can access all of them via the menu at the top which also gives you direct access to some of my most popular categories.  I hope you enjoy what I've written here and that it helps you learn Spanish so that you can talk to and understand native Spanish speakers and their cultures – that's what it's here for.  Lastly, please consider signing up to my newsletter: it's the easiest and fastest way for me to communicate with my readers and let's me immediately share my newest ideas and findings with people, plus I have deals with various language product vendors that allows me to offer you exclusive deals, discounts, etc. that I only offer via my newsletter.
Cheers,
Andrew