Spanish MOOC is a supplementary beginner's Spanish course that I'm really impressed with, especially given that it's completely free.
It's centered around popular Spanish-language YouTube videos like music videos from Shakira and Juanes, and the interface they use (courtesy of Instreamia, an online language-learning platform) is excellent.  The primary strength I see in it is in improving listening comprehension.  You watch a video while simultaneously filling in the blanks in the subtitles provided, each sentence will have one word missing which you must select from 5 choices at the bottom.  Click the images below to see larger versions if you have trouble seeing them.
There aren't really any lessons per se, so this won't work as a comprehensive Spanish course that can be used on its own with nothing else to help you, it supplements whatever Spanish course(s) you might be using already (if you choose to use one, and as I've said before you don't have to).
I didn't see any grammar lessons but they do offer what looks like (I don't know, I couldn't test it) a superb flashcard system for reviewing vocabulary.  It automatically puts words in the deck for later review that you had trouble with (I believe you can also manually add them).  You're given this lovely interface to work with that shows all your words…
…and which, when you click on a word and then click the symbol telling it to expand it, you get a more complete definition along with example sentences plus the original context that you learned it in (e.g. a music video):
Regrettably, I was unable to test the flashcard system as it didn't work for me, I just got this page indefinitely: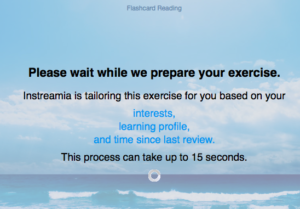 Try it for yourself, odds are it's a browser/plugin-specific issue and it'll work for you.  Let us  know in the comments how you fair.
Again, you can go to their website here, at SpanishMOOC.com.
Conclusion
Other than the problem with the flashcards I'd say this is a really good system, especially since it doesn't cost you anything.  I'm particularly impressed with the learning interface around the videos, that alone justifies using it, I'm not even bothered that much about the flashcards.
Cheers,
Andrew
Get my list of the internet's top 33 FREE Spanish-learning resources here!
I put together a list of
the internet's Top 33 Free Spanish-learning resources
, my favorite language exchanges and Spanish chat rooms, and more. I've spent a great deal of time putting together a 3-part series of articles for you on the internet's best free resources for the Spanish-learner that you'll get when you sign up for my newsletter–in addition to all of what you get below, I'll be sure to send you any updates about cool new sites, resources, and learning tips and techniques that I come up with (I'm currently putting together a whole series that will teach you in great detail precisely how I go about learning a new language):
Part 1:
A very long list of my favorite Top 33 free online Spanish-learning resources (tools, references, sites with free lessons, articles, blogs, forums, etc.) that's far too long to include here, especially with all the other stuff I've got here that's available just on this site alone, and I'd like to offer it to you (completely free, you don't have to do anything other than sign up) right now.
Part 2:
I explain what language exchanges are (essentially they allow you free access to an unlimited number of native speakers to practice your Spanish with), why they're absolutely essential if you're teaching yourself (I'm serious when I say this: it's impossible to get fluent without them if you're learning a foreign language on your own), how to use them, and which ones are the best.
Part 3:
I cover chat rooms which are specifically devoted to connecting you with native Spanish speakers who want to learn English so you can chat with them in Spanish (and they'll help and correct you) and then you do the same for them with their English (these are completely free to use, but rather hard to find, but I'll tell you where the best ones are!). Sign up below!
Related Posts:
August 13, 2016 No Comments