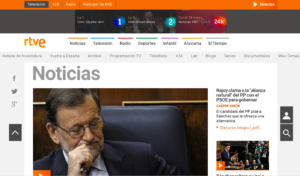 RTVE is Spain's state-owned corporate television station, very similar to the BBC in the U.K. or PBS here in the U.S.  They're the largest and most popular broadcaster in Spain, and they show a wide variety of news, documentaries, fictional dramas, reality shows, etc.  Since they're state-funded, there's no profit motive and therefore less motivation on their part to restrict who can watch their products, from where, and through which medium.  Consequently, their website, RTVE.es offers a lot of material that's all in Spanish and free to view by anybody, anywhere in the world.
It should be noted that not all of their videos can be viewed outside Spain, but many of them can.  It seems that, with the exception of news, the more recent a show is the more likely it is to not be available outside Spain (PIA doesn't have any VPNs in Spain at the moment, before you bother checking, for those familiar with that stuff).
News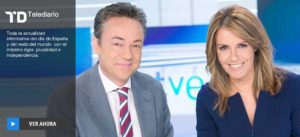 What I'll recommend first and foremost is the news show Telediaro.  There are usually several segments per day, and most of those will include Spanish subtitles (intended for the hearing impaired, but we know who else they're useful for!) you can activate in the bottom right corner of the video screen.  It should be noted, however, that if you want the subtitles you'll probably have to wait a day or two for them (a human has to do them manually, which is a good thing because it means they're done right, machine translation is still a long way from being as good).  So if you want the subtitles, pick a show from a couple days ago, if you don't care and want the latest news then choose the most recent transmission.
Personally, what I'm really fond of is the daily morning show Los desayunos (it's kind of a summary of current news with the added bonus of an interview segment at the end that's about 20-30 minutes long).  This one also includes Spanish subtitles, however you'll have to wait a couple days for them just like with the above.
Documentaries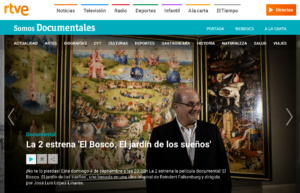 Additionally, they offer a ton of great documentaries, which you can see via the preceding link or by clicking "Documentales" in the menu at the top of their site.  All of the ones I've seen so far include a transcript (verbatim of what's said) on the right hand side of the video screen (note that you can click on a piece of dialogue there and it'll skip the video to it).  The thing with these is that they're not all available outside of Spain.  What I think the pattern is here, is that all the more recent stuff (3 months? 6 months? I have no idea, something like that) is restricted to people in Spain and then once it ages beyond that point they open it up to everyone.  So, in other words, look for shows that are at least 6-12 months old and those will almost certainly be available.
One I'm watching right now that's a lot of fun (and available to everyone and has Spanish subtitles) is Los colores del jamón ("The colors of the ham"), which is about jamón in Spain.
Drama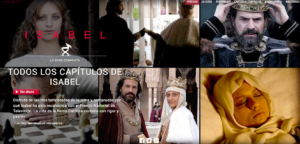 You can view these by clicking 'Television' in the top menu or just going here.  As you can see they have quite a lot available.
Two that I'm partial to are Isabel and Carlos, Rey Emperador, both historical fictions (I like those because you learn a lot of Spanish history while you're at it).  Both of these offer Spanish subtitles, though again the same thing I said above about the more recent episodes not being available outside Spain yet seems to apply here as well.
Other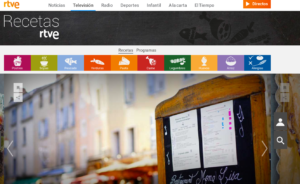 I'm really not into reality shows so I can't comment on those, but I do know that Masterchef, for one example, is extremely popular in Spain right now.
They have a whole area called Recetas ("recipes") for you cooks out there.  Note the little menu at the top where it says "Recetas   Programas" – "recetas" are just the recipes (you can have Google Translate help you out by just coping and pasting the URL into Google Translate and it'll translate the whole page for you, or even better you can use Readlang to learn some Spanish while you're at it), whereas "Programas" are actual TV programs.
How do I learn Spanish from these?
Well, if you're not aware I have a whole method and a book I wrote about it called The Telenovela Method where I teach you how to learn Spanish from popular media like TV shows, movies, music, books, etc. that you can all find online for free.  It's currently an e-book only and available for $9.99 either direct from me or via Amazon as a Kindle e-book.
Anyway, I hope that was helpful and I'll talk to you guys again soon, let me know what you think in the comments.
Cheers,
Andrew
Get my list of the internet's top 33 FREE Spanish-learning resources here!
I put together a list of
the internet's Top 33 Free Spanish-learning resources
, my favorite language exchanges and Spanish chat rooms, and more. I've spent a great deal of time putting together a 3-part series of articles for you on the internet's best free resources for the Spanish-learner that you'll get when you sign up for my newsletter–in addition to all of what you get below, I'll be sure to send you any updates about cool new sites, resources, and learning tips and techniques that I come up with (I'm currently putting together a whole series that will teach you in great detail precisely how I go about learning a new language):
Part 1:
A very long list of my favorite Top 33 free online Spanish-learning resources (tools, references, sites with free lessons, articles, blogs, forums, etc.) that's far too long to include here, especially with all the other stuff I've got here that's available just on this site alone, and I'd like to offer it to you (completely free, you don't have to do anything other than sign up) right now.
Part 2:
I explain what language exchanges are (essentially they allow you free access to an unlimited number of native speakers to practice your Spanish with), why they're absolutely essential if you're teaching yourself (I'm serious when I say this: it's impossible to get fluent without them if you're learning a foreign language on your own), how to use them, and which ones are the best.
Part 3:
I cover chat rooms which are specifically devoted to connecting you with native Spanish speakers who want to learn English so you can chat with them in Spanish (and they'll help and correct you) and then you do the same for them with their English (these are completely free to use, but rather hard to find, but I'll tell you where the best ones are!). Sign up below!
Related Posts:
September 2, 2016 No Comments