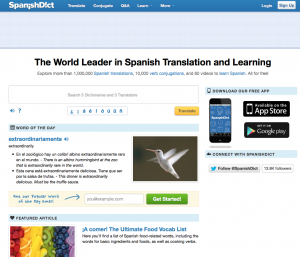 Hi guys, short little post here, primarily to share a video with you I just did but I also wanted to add some things that I didn't get to in the video.  I've mentioned several times that SpanishDict is my preferred Spanish dictionary and my preferred Spanish verb conjugator, and I finally got around to doing a proper post about it.  It's an extraordinarily useful tool for anyone learning Spanish that's far, far more than just a dictionary, it also helps you learn/look up idioms, sayings, expressions, slang, as well as conjugates verbs better than any other tool I've ever seen, plus it has videos of native speakers pronouncing the great majority of all the words in their dictionary (which is huge, that's a massive undertaking, that's tens of thousands of videos), plus they've got a great grammar reference section as well as free Spanish lessons on their YouTube channel.  Check it out and be sure to look at the bit below the video where I go into the other areas of the site I didn't get to in the video:

Additionally be sure to check out SpanishDict's section on Spanish grammar and syntax – this is a great little list of various Spanish grammar and syntax components, they have good, easy to understand explanations and a quiz at the end of each one – as well as SpanishDict's channel on YouTube where they have tons of lessons (aimed at beginners, they're very clear and easy to understand) such as Por vs. Para and their excellent 2-part series of videos on the subjunctive which I used as the basis for my very popular post on that subject called The Spanish Subjunctive Explained + W.E.I.R.D.O System (awesome little mnemonic device for dealing with the subjunctive in Spanish).
A quick note before we finish up: if you're interested in teaching yourself Spanish…
I have a short post and video (that are free to read and view of course, won't cost you more than a few minutes of your time) on how to do precisely that with the system that I put together which allowed me to become fluent in Spanish in just 6 months after years of trial-and-error by watching Spanish-language TV shows (like telenovelas, hence the name of the system) and movies, reading Spanish books and comics, and listening to Spanish music. If this sounds interesting to you, check it out by clicking the link below (the following link should open in a new tab or window for you when you click it so I'm not asking you to leave this article here):
"The Telenovela Method of Learning Spanish" (a "telenovela" is a Spanish-language soap opera, they're what I initially used to teach myself Spanish!)
I also include some quick and valuable tips for learning Spanish as well as a couple of the most useful free Spanish-learning websites that I recommend.
Let me know what you think in the comments or by contacting me!
Cheers,
Andrew
Related Posts: